Alpaca Feed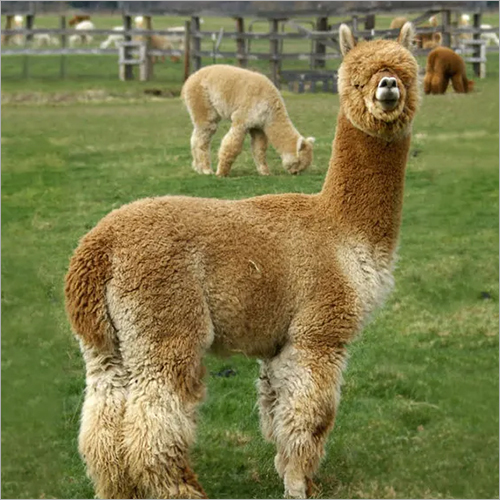 Alpaca Feed
Price And Quantity
Product Specifications
Corn Gluten Meal, DDGS, Pluses, Essential Amino Acids, Vitamins, Minerals, Trace Minerals, Toxin Binders and Mold Inhibitor

Brown
Product Description
Alpaca Feed
An Alpaca Feed is a balanced diet thatb is important no matter what life stage or goals people have for their alpacas - whether theyre producing fleece for sale, competing at shows or simply providing companionship for the family. Good nutrition is essential for alpaca health and quality fiber production. It was designed to support alpaca health at any stage of life and is available in pelleted or crumble form. The Alpaca Feed is made available by us that is very safe for alpacas.
Alpaca Feed (A-010214)
Crude Protein % : 14.0
Crude Fat % : 2.1
Crude Fiber % : 13.7
Total Digestible Nutrients % : 60.0
Digestible Energy2, kcal/kg : 2545
Feeding Instruction :
To be fed with Free Choice Hay.
Pregnant Females: 0.50 lb per 100 lbs of body weight
Lactating Females: 0.63 0.75 lb feed per 100 lbs body weight
Growing Males: 0.40 0.50 lbs feed per 100 lbs body weight
Older Females and Animal Under Stress: 0.34 0.50 lb feed per 100 lbs body weight
Mature Males: 0.25 0.34 lb feed per 100 lbs body weight
Animal on Fresh Pastures: 0.25 0.33 % of Body Weight or More
Expert Tip: Feed should be fed at the rate of 0.5% Body Weight
Ingredients : Corn Gluten Meal, DDGS, Soy Meal Pluses, Essential Amino Acids, Vitamins, Minerals, Trace Minerals, Toxin Binders and Mold Inhibitor
Ingredient Profile : 100% Vegetarian
Product Form : Coarse Mash Form / Pellet Form
Moisture % Maximum : 2
Product Branding : ANUPAM
Net Weight : 39 Kgs When Packed
Product Pricing : On Unit Basis (for each 39 Kgs Packing)
Production Capacity per Day : 450 MT/Day
Factory Visit : Not Permissible
Fumigation : Aluminum Phosphide or Methyl Bromide (or any as per buyer specification)
Clinical Test Methodology : As per IS:2052 Proximate Analysis on Dry Matter Basis
BASIC INFORMATION FOR DOMESTIC BUYERS
Outer Packing : Poly Propylene (Milky White)
Price Offer : On Ex- Factory Basis
Mode of Payment : 100% Advance Through Bank Cash/ Cheque/ RTGS/NEFT
For Inter State Transaction : VAT Number is Must
Tax Applications : NIL
Truck Loading : 17 MT: 440 Bags | 21 MT: 540 Bags25 MT: 645 Bags | 28 MT: 720 Bags
Minimum Order Quantity : As per Buyer Requirement & Material Availability with us.
Buyer Branding Offer : Yes, for Bulk Orders Only. Buyer has to arrange for Packing Material
BASIC INFORMATION FOR OVERSEAS BUYERS
Inner Packing : Low Density Polyethylene Bags of 75 Micron
Outer Packing : Poly Propylene (Milky White)
Price Offer : On CIF Destination Port Basis or Delivery basis to Nearest Transit Port
Mode of Payment : 100% Wire Transfer Only, we dont accept L/c or SBLC of any nature.
Terms of Trade : Mutually Agreeable Basis
Cargo Stuffing in 20 FCL : 600 Bags of 39 Kgs
Total Load Stuffing : 23.4 MT in 20 FCL
Minimum Order Quantity : 600 Bags or One 20 FCL
Buyer Branding Offer : Yes, when MOQ = 3000 Bags or Five 20 FCL
Nearest Transit Ports : Kandla Port, Adani Port and Pipavav Port
Buyer Specific Packing Offered : Yes, when MOQ = 3000 Bags or Five 20 FCL
Our Standard Shipping Document
Phytosanitary Certification
Fumigation Certificate
Food Hygiene Certificate from Veterinary Department India
Product details
| | |
| --- | --- |
| Animal on Fresh Pastures | 0.25 - 0.33 % of Body Weight or More |
| Crude Fat | 21 % |
| Crude Protein | 14 % |
| Digestible | 2545 (Energy2, kcal/kg 2545) |
| Expert Tip | Feed should be fed at the rate of 0.5% Body Weight |
| Growing Males | 0.40 - 0.50 lbs Feed per 100 lbs Body Weight |
| Lactating Females | 0.63 - 0.75 lb Feed per 100 lbs Body Weight |
| Mature Males | 0.25 - 0.34 lb Feed per 100 lbs Body Weight |
| Older Females and Animal Under Stress | 0.34 - 0.50 lb Feed per 100 lbs Body Weight |
| Pregnant Females | 0.50 lb per 100 lbs of Body Weight |
| Total Digestible Nutrients | 60 % |
| Crude Fiber | 13.7 % |
Technical Details

Trade Information
Cash in Advance (CID), Cash Advance (CA)

15 Days
Yes

Free samples are available
Paper packing and PP Packing

Africa, Middle East, Western Europe, Eastern Europe, South America, North America, Central America, Australia, Asia
Contact Us
B/H, Gokulnagar Octroi Check Post, Near Vijaynagar Railway Crossing Jamnagar Gujarat India 91-288-2565657
Phone :09979959777